Lessons in growing a Facebook Group to 55,000 members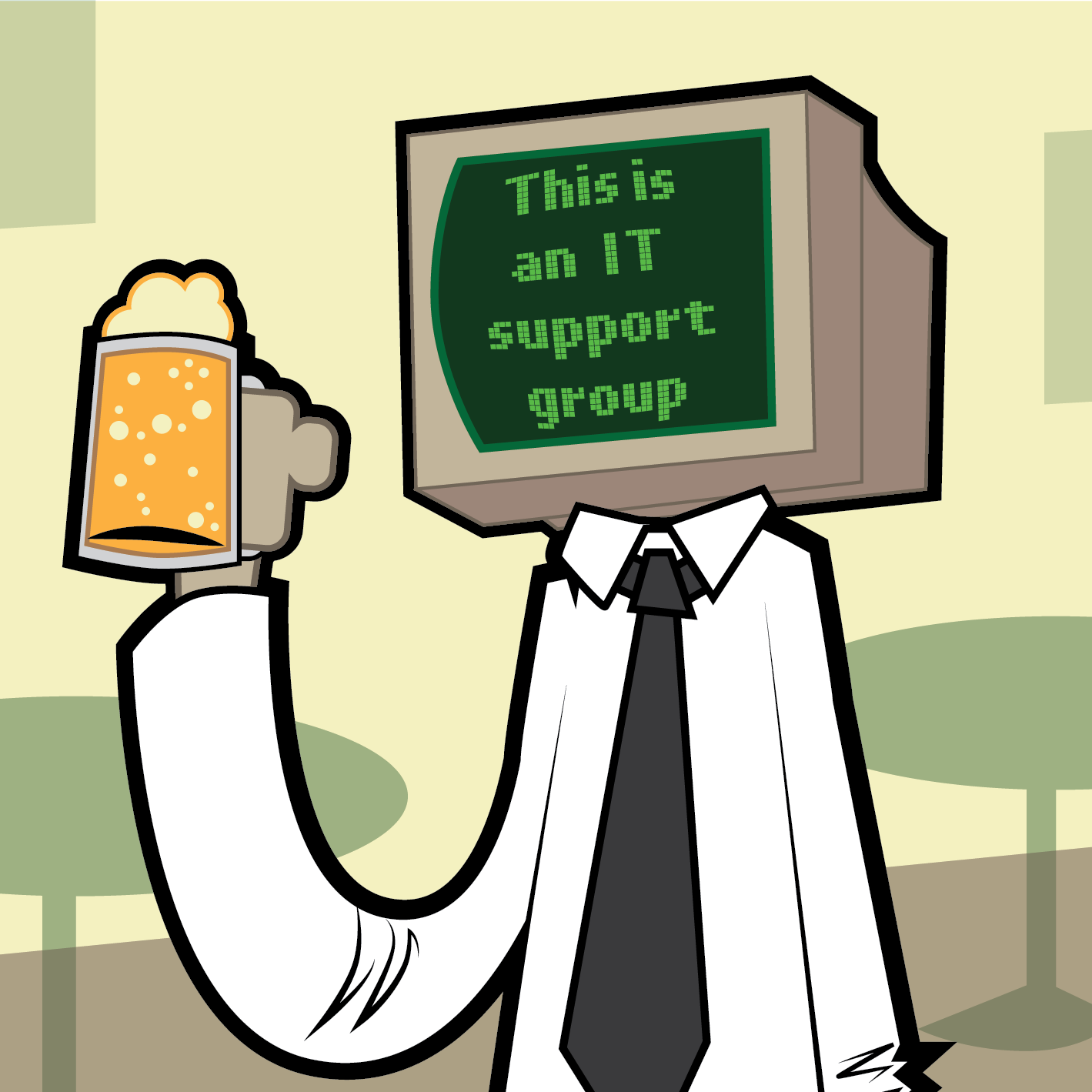 Sometimes, I feel like I just got really lucky.
Besides, all I did was accept and decline member requests nearly every day for 3 years, post memes and funny content often, build branding that fits my audience's niche, get verbally berated and not berate back, post useful career advice, engage with my audience, build a mailing list, learn to copywrite, learn outbound sales, learn about lead-gen...oof, I am getting a bit self-congratulatory now. It really was a lot of work.
But still, I can't shake the feeling I got lucky that my group has grown so large. My group has Facebook users requesting to join it every day. Facebook's magic algorithm works in the background, recommending my group to users it think might like it.
On April 20, 2017, I created the Facebook Group "This is an IT Support Group" and it's since grown quickly and allowed me to create a small business.
Here's some things I've learned along the way:
Origins
I'm in a ton of Facebook groups. They vary in quality quite a bit.
I joined groups related to anything I was interested in. 3d printing, gaming and even the career I work in, IT.
I joined an IT-related group and was quickly taken aback by what had become one of it's rules. "We will not help you with tech support".
WTF?
Much of the joy and misery around IT is related to troubleshooting issues. Leaning on others who have dealt with technical bits and bobs is a multiplier for learning and solving issues.
In fact, there was another group that prided itself on "not being a tech support group".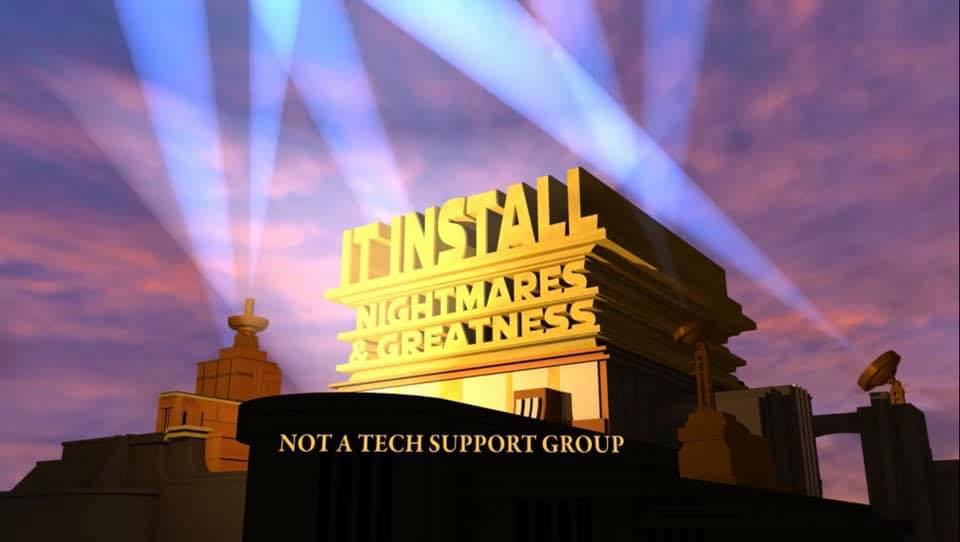 Being the smart-ass I am, I made This is an IT Support Group. I'd hang out in the non-tech-support-groups and tag it on every post decrying free IT Support.
Rando: We aren't your tech support group! This group isn't for this. This is not a tech support group!
Me: Nah, but This is an IT Support Group. 😎 * Cue YEAAAHHHH from the Who*
Branding Is Important (and kinda fun)
I was at an Art Fair an autumn or two ago, enjoying a beer and looking at the weird stuff people peddle and came across a booth with a large display of water-color prints and drawings. They were colorful, comic-ey and...fun!
I talked to the artist a bit and bought one of his pieces. A few weeks later, I thought "I should see if this guy will make me a logo for the group". I emailed him, we hashed it out and Nick made an amazing logo of a drunken computer sitting at the bar.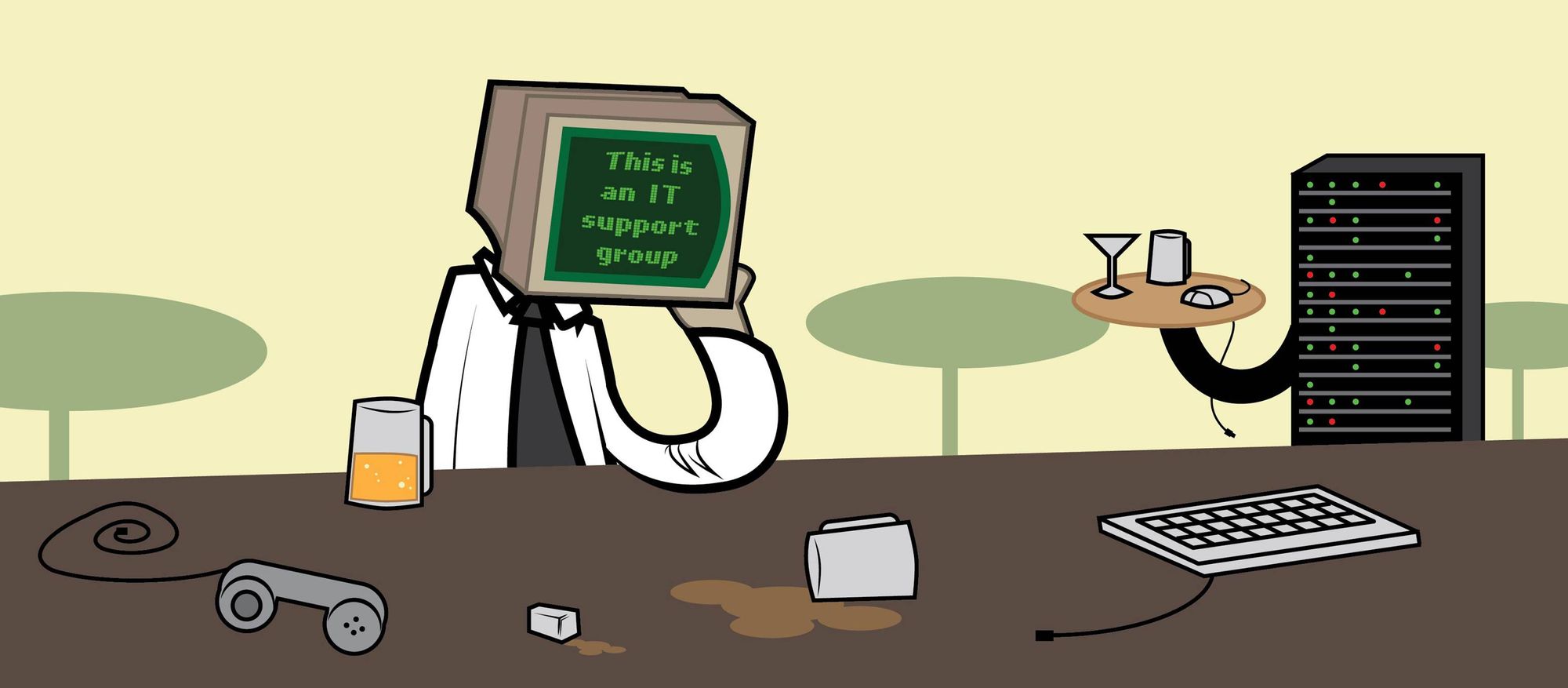 Check out the "server" on the right. Do you get it? Like a server? Lmao. I think I'm so funny.
I'm not sure if I should promote drinking, but I did anyway and loved the outcome.
I think it resonated with my user's who surely had settled in to a watering hole after a long week of outages, customer complaints and the other conflicts that come from working in IT.
Shout out to Nick Folz for being an awesome graphic designer.
So how DO you grow a Facebook group?
Early on, a Facebook groups run on hopes and dreams. You have to promote the group, talk about it, post in it and keep things running smoothly.
Facebook groups are a double-edged sword. They're awesome because large groups get promoted to users who would be most likely to want to join them. They suck because Facebook has to recommend people to join the group.
Most of our group's growth comes from being recommended. Daily, we field "member requests" from 50-100 users who were recommended our group or invited to join it. I've heard of larger groups that get hundreds of requests a day. As the group grows, it becomes a fly-wheel that is recommended more and more. Compound interest. The group becomes self-sustaining. The network effect kicks in and users post, comment, collaborate and bicker. Your group starts getting recommend for users to join. You are less active in building it.
Until then though, you should consider a few things to build it:
Have a Purpose
Your group could be about anything. Generally, niche interests are a good way to get a group of passionate people together. Many brands set out and name their group after their company and expect hyper-growth. I wouldn't do that.
I'd find a short, catchy name and base the group's mission around that. I don't have a mission statement written down anywhere but I imagine it'd be something like Advancing IT professionals careers and skillsets through community.
Have some rules
Any time you gather people online in a public forum, fights are bound to break out over politics, religion and in my case, Android vs. Ios.
Having a few baseline rules on what is and isn't accepted is paramount to your success.
Here's a few to kick off:
No hatespeech
No Spam
Be respectful of one another
No NSFW Content
Even still, people will violate your rules, but having them up sets expectations and gives you something to point to when you have violators.
Rules suck, I agree, create them anyway.
Blow away the Spam
Larger groups than mine are a mess. They're filled with disparate posts and links to spammy IT-certification braindumps (basically an answer list, it's cheating), crappy video courses, SaaS products, vacation giveaways – you name it.
I've kept a pretty lenient banhammer by my side and use it often. Disallowing this kind of behavior creates a place people feel comfortable coming to online and reading. No one wants to be spammed with useless crap 24/7.
To be honest, most groups don't give a second thought to some of this stuff, so putting in the effort will be an easy advantage.
Keep your group active
I use my group as a place to ask for technical advice or share news I come across daily. This kind of content keeps things active and encourages users to engage if it's relevant.
Aside from news and links that take you away from Facebook, original content is a great strategy too. If you have a story to share, advice to give or ask for or just general discussion, Facebook groups are a great place to do so.
Build a Brand
I showed you my group branding above. It didn't break the bank and it gave me a real competitive advantage above others. Everything you do should reflect your brand and who your group is for. A great cover photo and description of the group makes things look "professional". You are a professional, so don't just hobble some stuff together and hope it works out. Engineer success from the beginning.
It could take a while
My group has been around for 4 years! I didn't think I'd still be working on this thing at this point or that it could become a business. We've grown mostly organically, but there are probably a few ways we could've scaled quicker. If you already have a large email list, twitter following or other traffic source, mention your group there and ask folks to join. You could run a giveaway in return for mailing list signups, group joins/invites. Maybe your group doesn't even have to be huge to be effective! (but it helps).
Where we're at now
Our humble little group has grown a mailing list of 12,000 and 55,000 members in the group. It's been an awesome journey. I've had the opportunity to speak at a conference through a connection in the group and meet people around the world who have become friends.
I'm focussed on building the brand into something bigger than the confines of Facebook. Our brand has picked up a few sponsors, which has given me more incentive to scale things up and maintain a quality community for IT professionals to grow their careers. The future will focus on original content, scaling our audience and maybe some sort of premium product some day.
We're doing a member profile on our newsletter soon where we'll interview interesting people in the group. One member works for NASCAR, another "works for a super yacht company". I have no idea what is involved in either of those, but I'm eager to tell their stories!
Want to see more posts like this?
Click here to sign up for my Mailing List – I write about tech, online marketing and entrepreneurship.  ✉️ 📬
OR sign up below 👇